From a Countertop Composter to an indoor microgreen grow system, here are 6 high-tech gadgets that will upgrade up your kitchen.
---
1. The Nama J2 – $550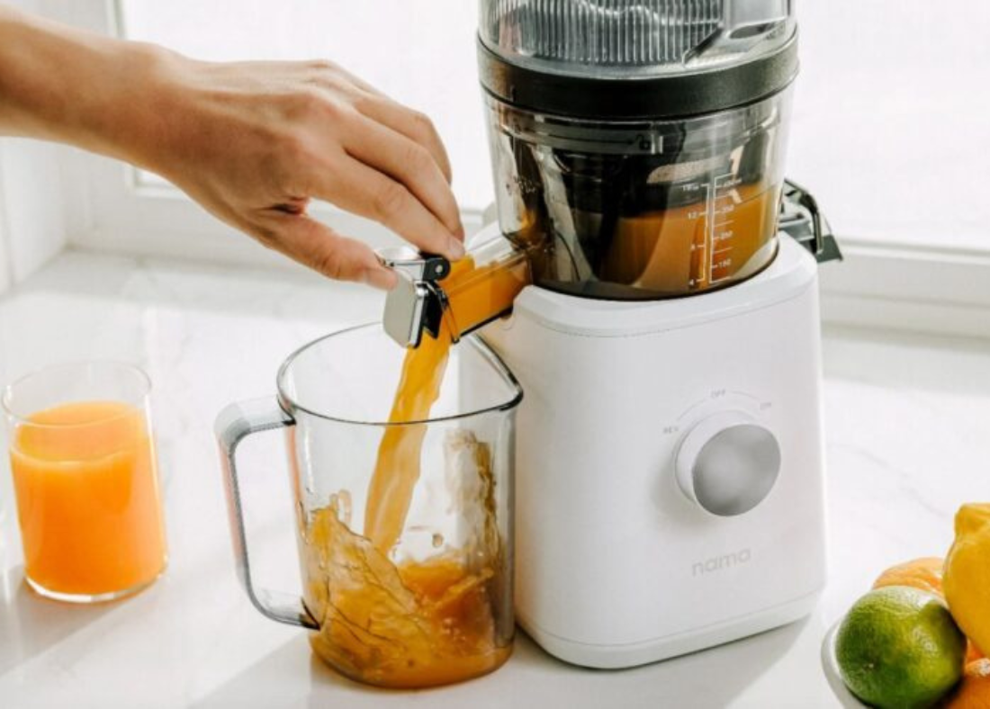 Juicing is in. For years now, health nuts and ordinary people trying to start their new diet of the month have turned to natural juices to nourish their bodies with the fruits and vegetables they crave.
Though many juicer options exist, most take up half of your counter space if you live in an average-sized apartment.
According to over 8000 five-star reviews on their website, the Nama J2 may be the option for you.
The J2 is about the size of a blender, built to process all parts of the fruits and veggies you put into it. It used a cold-press method, which follows a slow spin of the food, squeezing out the juice from one size and the pulp from another.
Also known as a masticating or a slow juicer, it uses a single auger at 48 rotations per minute, breaking down almost any produce into smaller bits, then into pulp and juice.
According to their website, Nama prides itself in the J2's ability to sustain a consistent flow of produce. Most juicers require you to pack the components of your juice in one by one, but you can load the J2 with all your ingredients at once—without even chopping them beforehand—and let it do the rest of the work.
The juicer can also handle making almond milk, aside from any juice or healthy punch. Nama also offers a sorbet attachment for the J2.
Nama recommends storing any juice you make and don't plan to drink immediately in an air-tight glass container to prevent nutrient loss from oxidation.
Users also love it for its easy disassembly and an included custom cleaning brush, which makes washing it that much easier. When the J2's lid is open, the machine immediately shuts off to ensure clean and safe juicing and cleaning.
To browse the Nama J2, click here.
---
2. Fellow Ode Brew Gen 2 – $345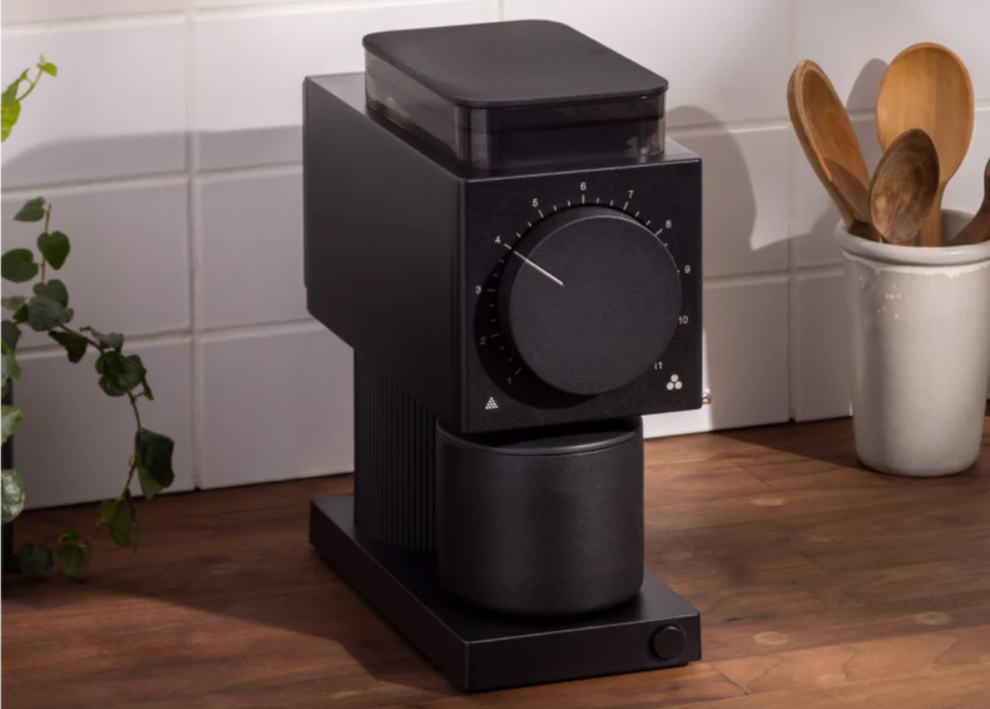 The new wave of products has been anything but new. People are interested in going back to the basics, turning to "retro" and "vintage" looks, and Fellow's Ode Brew Grinder is no exception.
It features an oversized knob, as well as old-school levers that feel reliable to users. Reviews include mentions of how quiet and fast it is, as well as how great it looks on any kitchen countertop.
Adding features like a 100-gram capacity and 31 grind settings, Fellow spent two years developing the 2nd generation of the fan-favorite machine.
Nick Cronan is the industrial designer who created the first-edition, Red Dot Design Award-winning Ode for Fellow, as well as their equally visibly-satisfying "Stagg" kettle. Cronan says the inspiration behind his design included '80s hi-fi system knobs. That "retro" feel was completely purposeful, and is now revered by users and critics alike.
Cronan looked to design something that satisfied coffee connoisseurs but still easy to use and repair. The Ode Brew Gen 2 ticks all the marks, also offering many replacement parts for those interested in merely repairing their machine or speccing it out.
The machine includes a chrome lever that feels as light as a piano key, which helps you spring any excess grinds into the brewer's catch to prevent grind retention and unwanted messes. Users also love the magnetic base to catch the grounds, with technology that makes it extra easy to remove and reinstall.
To browse the Fellow Ode Brew Gen 2, click here.
---
3. The Leath Fieldhouse – $295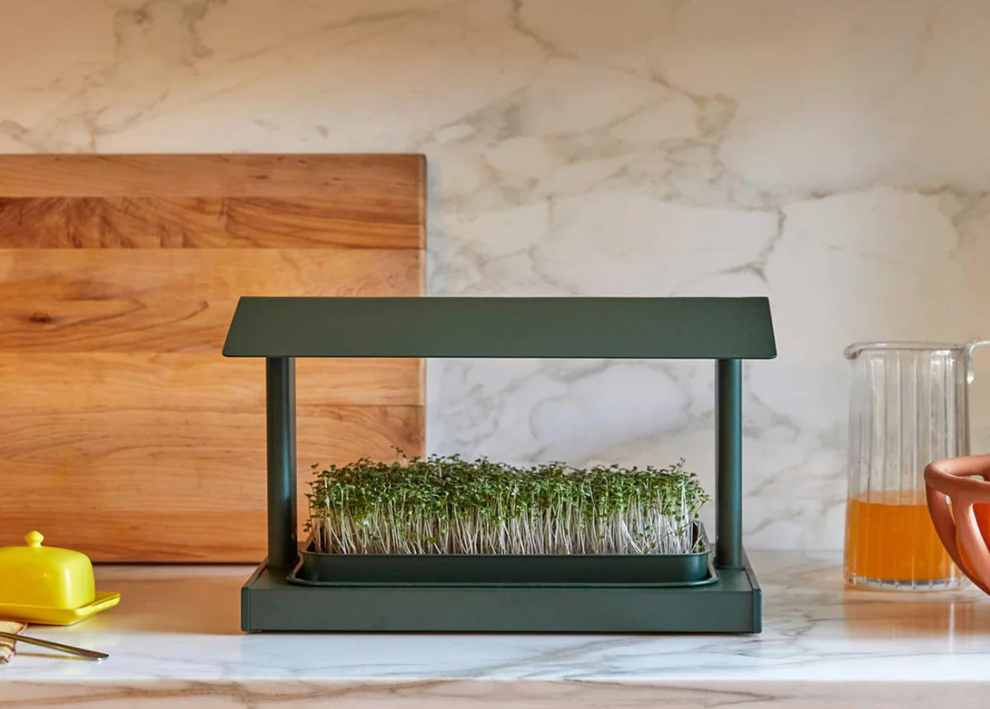 Everyone wants to garden these days, but most people don't have the space or the sunlight, and others simply don't know how to do it. Leath's Fieldhouse might be the solution.
The Fieldhouse is an indoor microgreen grow system that lets you grow broccoli, arugula, radish, pea shoots, and sunflower sprouts, as well as their very own "medley" of leafy green seeds.
Leath's website already sums up their function, running a continuous banner that reads "No green thumb required" – and it seems they're not wrong.
"I seriously don't have a 'green thumb' but thought I'd take a chance because they say you don't need experience – they were right," verified buyer Jewell P. writes in their review of the Fieldhouse.
Using the Fieldhouse is as easy as following their three steps: planting your seeds, germinating for 2-3 days, watering every 1-2 days, and harvesting after 7-12 days.
The package includes the grow system with an LED grow light, a germination lid that doubles as a cutting board, and a measuring cup and spray bottle to water your greens during their germination stage.
Available in eggshell white and forest green, the Fieldhouse has a sleek and minimal design that looks great in just about any room in your house. Users are also raving about their packaging, comparing its "satisfying-ness" to that of Apple. Some customers have even used the boxes as decoration at home.
According to Leath, it takes an average of 2 months for the Fieldhouse to pay for itself, and average use of the product will save you about $1565 yearly in the ingredients you grow.
No matter what stage of growth you're at in your gardening journey, The Fieldhouse may be a great addition to consider for your heart and health.
To browse the Leath Fieldhouse, click here.
---
4. Lomi Countertop Composter – $449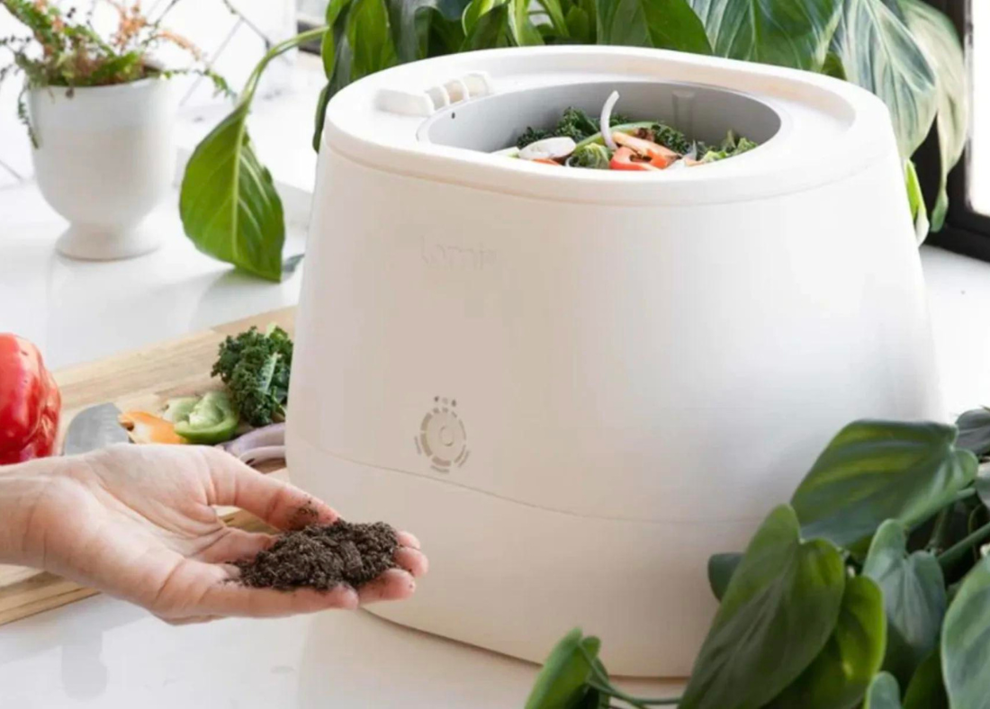 40% of food in the United States is thrown away every year – meaning 119 billion pounds and $408 billion of food go to waste, according to Feeding America.
To deal with it, many people are turning to composting. Like gardening, however, composting requires outdoor space or a nearby drop-off site. Lomi has solved this issue for many.
Lomi's countertop composter breaks down your food scraps into dirt that can be put back into your garden, all while masking smell and sound. The machine sounds like a low hum throughout its three cycles: Eco-Express (for organic matter) lasts 3-5 hours, Lomi Approved (for organic matter and approved bioplastics) lasts 5-8 hours, and Grow (a low-heat mode to preserve the beneficial microorganisms in the soil) lasts 16-20 hours.
The machine is visually pleasing as well, featuring a sleek and rounded white design with a removable bucket.
To set it up, you just have to load two filters (one on the back and one on top) with the activated charcoal that comes in the box, then place your scraps in the metal bucket, throw in a "LomiPod" to break the food down, close the lid, choose your cycle, and click start.
Lomi's composter can run consecutive cycles for a while, but as soon as you think it's time, you can throw the removable bucket in the dishwasher.
Instead of letting your food rot and release methane in a landfill, consider investing in the planet and composting in the comfort of your own home.
To browse the Lomi Countertop Composter, click here.
---
5. Musso Lussino Lello 4080 – $1,026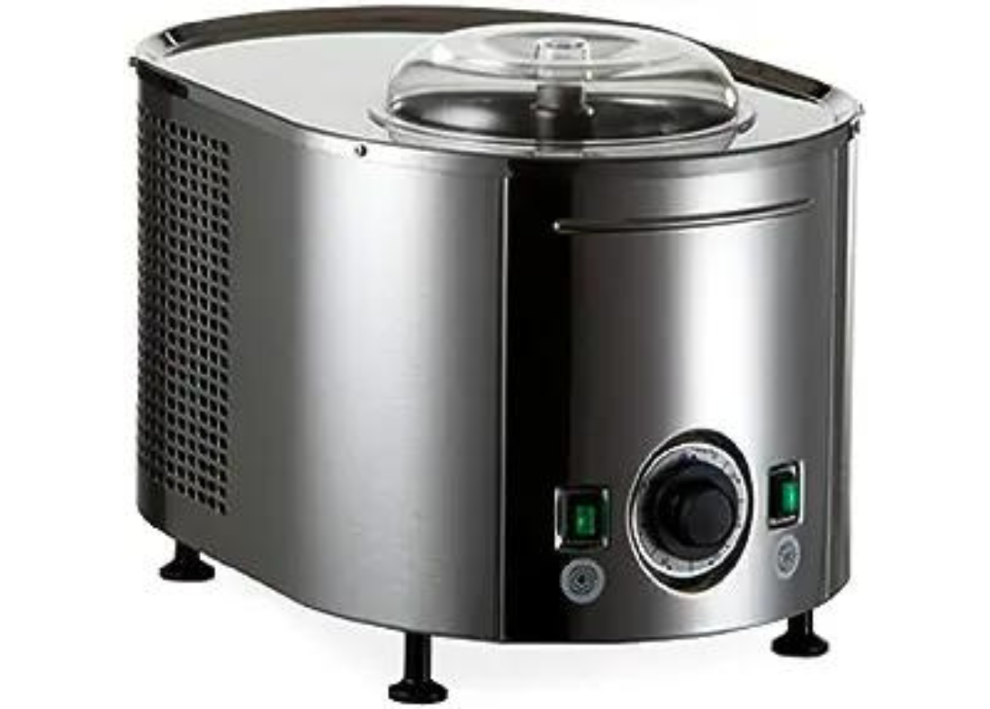 Living in Miami is hot, but an icy snack always makes it easier. If your chilly dessert of choice is ice cream, you might consider investing in this stainless steel ice cream maker.
It's pricey, sure, but Musso Lussino's high-tech machine is fit for any gelato enthusiast who's ready to drop a pretty penny on a great-quality piece.
While most ice cream makers require physical force to yield a crunchy ice-milk mixture, the Musso does the work for you. Just put all of your ingredients into its bowl, and come back in half an hour to find cold, creamy, and (naturally) silky gelato.
Users say it is easy to clean and avoids messes as the internal bowl isn't removable, removing the possibility of gunk getting stuck under or around it. The Musso also turns off by itself when the paddle senses the ice cream is ready, delivering thick but creamy gelato. Even when placed in the freezer in an airtight container, its quality does not diminish over the first couple of days.
"This Ice Cream maker is simply the best, most professional one I've ever used. And I've used several. Admitingly, I never owned one of the industry standard ones (4k-10k ones), but for home usage, this one takes the cake EASILY. And honestly, it FEELS like an industry standard unit build wise and results wise. Extremely easy to use, literally plug and play, the best for clean up (IMO), AND THE RESULTS are finally ice cream parlor style, and just so well built I am very impressed," verified buyer Joel D wrote on an Amazon review.
The machine can make 1.5 quarts of ice cream for each batch, and is most certainly an investment to consider if you want to bring a piece of Italy's delectable gelato into your home.
To browse the Musso Lello 4080, click here.
---
6. Terra Kaffe TK-01 – $895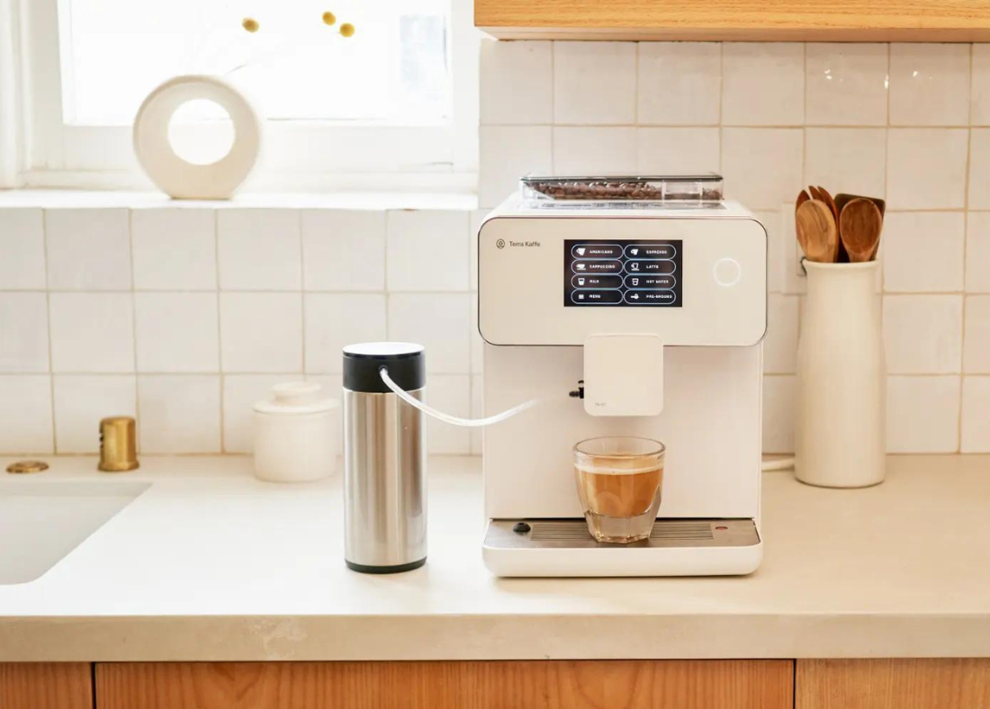 If you love coffee and need something less robust than Fellow's Ode Brew Gen 2, Terra Kaffe's Super Automatic Espresso Machine is the perfect opposite for you.
Requiring no pods or capsules, the machine goes back to the basics in a different way than the Ode. Users can enjoy the strong, rich taste of their coffee beans along with the seamless experience of a fully automatic espresso machine.
With just the tap of a button, this machine makes coffee in a matter of seconds. It offers countless brew options, including Americano, Cappuccino, Latte, and–naturally–Espresso.
Available in black or white, the Terra Kaffe espresso machine blends into most kitchens. Though it's tech-heavy, it doesn't look like it, only bringing along one addition: a milk frother.
It's almost fully customizable, with a variety of options for temperature, water firmness, grind size, among other things. The grinder works with whole or pre-ground beans alike, and can hold 12 oz of beans.
The very top of the machine includes a metal area that acts as a "mug warming station," with two raised squares for your brew to stay hot before you're ready to drink it.
The overwhelming amount of technology may come with some snags once-in-a-while, but users applaud the company's alert customer service number, which offers access to one of the Coffee Concierge Team's live technicians who can help.
To browse Terra Kaffe's TK-01, click here.
---
The products in this list have been highlighted by Departures and are not affiliated with Islander News in any capacity.
link