► Merc and BMW's EV flagships tested
► Both luxury EVs with big range
► Can they join the new world order?
Pity the Germans. Just as they achieved global dominance in petrol and diesel cars, a Silicon Valley parvenu changed the whole game. Only a few years ago they were basking in their oil-powered glory. Their smugness was palpable, their hegemony complete.
Booming Volkswagen was the world's biggest car maker, overtaking Toyota and the long-dominant Yanks. Audi, BMW and Mercedes ruled the premium car sector.
Then came Tesla's rise and diesel cheating and EV evangelism. Suddenly the German car industry doesn't look so clever.
Mercedes, self-proclaimed inventor of the petrol car, has only just launched its first new-from-the-ground-up electric car, almost a decade behind Elon Musk's Model S. BMW fleetingly sparkled with its ingenious i3 and wonderful i8, the most modern sports car of the past decade. Then it drifted into a DC doze. It has taken nine years since the i3 to launch its next bespoke EV. You'll meet the iX shortly.
Meanwhile, those self-proclaimed Vorsprungers at Audi were asleep. Progress through technology indeed! Audi was slow to embrace EVs and its efforts thus far have been undistinguished. The only exception is the fine e-Tron GT and that's a rebodied Porsche. Indeed, the Taycan is the sole bright electric light in an otherwise dark few years for the Germans.
Why have the Germans been so slow? Complacency? Perhaps. More likely, the car business has changed profoundly in just a few years. Internal combustion masters, they were ill-prepared for the seismic shift to software prominence, and slow to master the voodoo art of interfaces, apps and programming. Is it any wonder that Silicon Valley, the Koreans and the Japanese – electronic titans all – have bettered them as EV suppliers?
The Germans – still powerful, still rich, still clever – are now, belatedly, desperate to master the electric future. Its most ambitious two flagbearers stand before us. Mercedes' EQS and BMW's iX are electric technological showpieces from Germany's two most distinguished premium car makers. Although not head-to-head rivals – one luxury saloon, one luxury SUV – they are comparable on price (£121,990 for the EQS versus £116,965 for the iX, as tested). And, as the Range Rover happily proves, luxury SUVs now compete head-on with luxury saloons.
Read our Mercedes EQS review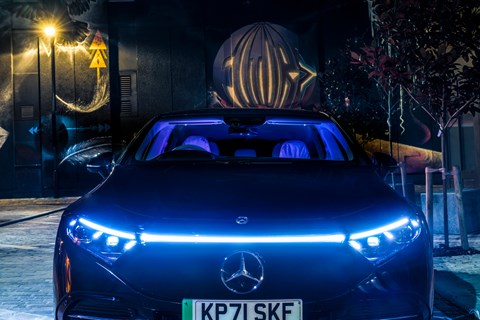 Let's start with the Mercedes. Think of it as the electric S-Class. It's the first luxury saloon in the all-electric EQ series, and the first to use an all-new EV platform. (The undistinguished EQA, EQB and EQC all use batteries and e-motors stuffed into non-EV architectures.) As with the S-Class, the EQS is a showcase for the technical talents of Mercedes. Perhaps most prominent is the jaw-dropping curved 55-inch Hyperscreen electro-facade that includes three touchscreens, occupies virtually the entire facia and costs an absurd £7995 as an option. Its new MBUX operating system is also one of the car industry's more impressive, although that's damning with faint praise. The massive 107.8kWh battery – the biggest ever fitted to a production car – promises a range of up to 453 miles.
It's an odd-looking car, pebble-smooth, cab-forward like a Jaguar i-Pace and a fastback hatch not a regal saloon. It's striking, futuristic but not really handsome. Instead of a grille, there's a 'Black Panel' complete with illuminated three-pointed star, optionally available in 3D. The 'bonnet' doesn't open (so no frunk). Neither does the BMW's. The Merc's doors can open themselves automatically – an option not fitted here.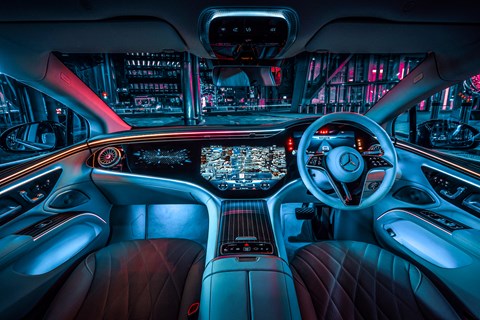 It's also a car that watches you and, through AI, learns your habits. There are 350 sensors, and as you drive you're being continually monitored. For example, look at the right (driver's side) wing mirror and the EQS knows that's the side you may want adjusting. Look left and the toggle will adjust the left mirror. Plus, the parking cameras automatically record any car-park knocks, so you'll know the guilty vehicle.
And of the more everyday car qualities, for those unbothered by apps and interfaces? Well, as we'll see, the EQS rides majestically and could well be the world's quietest car at speed, assisted by its near-silent electric drive and the world's most aero-efficient production car body (0.20 Cd).
Read our BMW iX review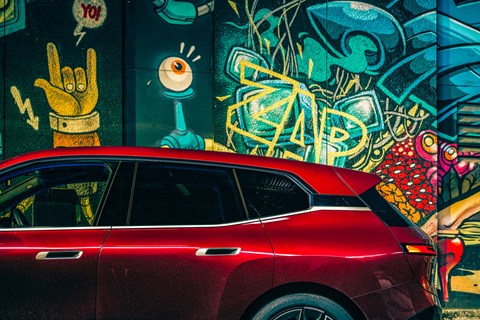 The BMW iX is also a new-from-the-ground-up EV. If the EQS is the electric S-Class, then the iX is the electric X5, though more spacious. While the EQS looks low, sleek and aero, like a slippery bar of soap, the iX is boxy and SUV-upright. It could be a petrol SUV. It also looks weird, another controversial – I'll call it ugly – new BMW.
There's the big beaver-tooth grille (that's not actually a grille), massive nostrils on our M Sport test car and an awkward angularity about the overall shape: it's not the messy tangle of angles we witness on Lexus SUVs, but it's still a curiously styled box.
Its big bluff nose is also clearly unnecessary – no big straight-six or V8 lurks behind – and the BMW kidney grille is in fact a flat plastic panel which will undoubtedly be assailed by rocks and other road debris. Which is why BMW has coated it in a self-healing polyurethane layer, which uses heat to mend small chips, scratches and scars. The faux grille shrouds a host of sensors including radar that can see over 300 metres ahead. Despite the iX's boxiness, the Cd is still an air-cleaving 0.25. That's slipperier than an i8 (0.26).
The bespoke chassis uses plastic reinforced carbonfibre (as well as steel and aluminium), and you can see carbon weave when you open the doors or boot. There's a big 105.2kWh battery – said to be 40 per cent more efficient than the 2020 i3 battery – that's integrated into the floor and supposedly good for 380 miles. We're in the mid-range 50 (there's a new M60 flagship), featuring the biggest possible battery for maximum range and better performance. Significantly better value is the smaller-battery 40, although a smidgeon under £70,000 still isn't cheap.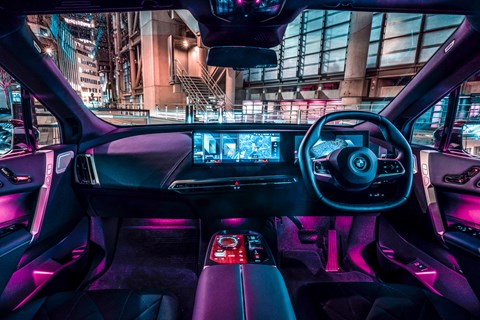 As with the EQS, the iX showcases its maker's latest software (OS8) and new iDrive control system, and it sees BMW throw every bit of electro tech it can at the dazed and confused first-time driver. As with the EQS, it'll take a lifetime to master all the gadgets and gizmos but let me give you a few of the headline acts. There's an interior camera that can take selfies – no thank you – and, more usefully, can show whether you've left a coat on the back seat. It can also monitor the interior of your car remotely, by the BMW app on your phone, and play security camera: when the alarm goes off, it takes a photo.
There's augmented-reality navigation, just like the EQS, overlaying images from the front camera with directions. And the car can be opened and started automatically by your iPhone without taking it out of your pocket. At night, the car can automatically provide a carpet of light to the door you're approaching. (Too bad if you have an Android phone, though help is coming.)
There's adaptive regenerative braking, which uses the car's front camera, radar and the nav to automatically decide the best time to coast (for instance, an open road ahead) or engage higher levels of brake regen, such as when it senses a car or a junction ahead. (The gadget-laden Merc has this, too.)
There's a large 14.9-inch curved central touchscreen conjoined with the 12.3-inch information display in front of the driver. Graphics are pin-sharp, although compared with Benz's giant Hyperscreen, it's an iPad versus a widescreen TV. Trust me, it's big enough. It has AI so it 'learns' the way you drive and your preferred destinations. Oh, and it's worth mentioning the electronic greeting and running tracks, akin to electronic engine sound, are by Oscar-winning composer Hans Zimmer. (The Mercedes, too, offers a choice of interior running noises and calming 'Sound of the Sea' and 'Summer Rain' moods.) 5G is standard. And it can drive semi-autonomously, happy to steer and stop itself when allowed. It's also fully wired for autonomous driving, if or when it ever happens. (So is the EQS.)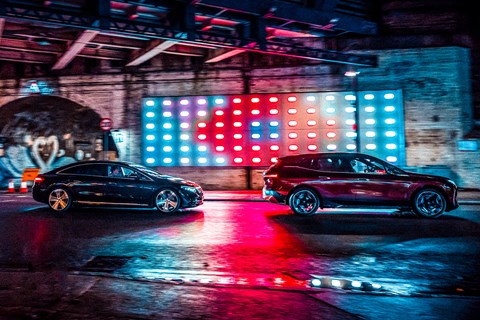 Our EQS test car is the single rear-motor 450+ Exclusive Luxury model rather than the faster twin-motor 4×4 EQS recently unveiled. Here on London's streets, traffic thinning as the night ticks on, it's swift and smooth nonetheless. You're ensconced in a classy cabin of fine wood, leather, faux metal, clever artificial materials and massaging and climate controlled seats. Sink your head into the pillow-soft headrests and you won't want to get out. On the other hand, any technophobes sat behind that big multiplex cinema screen might yearn for the reassuring analogue conventionality of their S-Classes.
Will 50-year-old-plus plutocrats, politicians and peers want big-screen entertainment in their luxury limo? I'm not convinced they will: true luxury should surely hide the tech, not flaunt it. (I love the setting on the Rolls-Royce Phantom's dash where you can hide the touchscreen and gauges and simply get a lovely polished plank of burr walnut: that's class.)
The Hyperscreen is in fact three screens hidden beneath one giant plank of scratchproof glass. In daylight you can clearly see that it's three screens on a black patchwork background – by night it looks to be a single vast screen. You can also see a prodigious number of fingerprints.
It certainly has a wow factor but its inflated size adds little benefit. As with so much of the EQS, it's tech for tech's sake; cleverness, if not wisdom. A big touchscreen never feels as classy as beautiful analogue gauges. Pixels never look luxurious.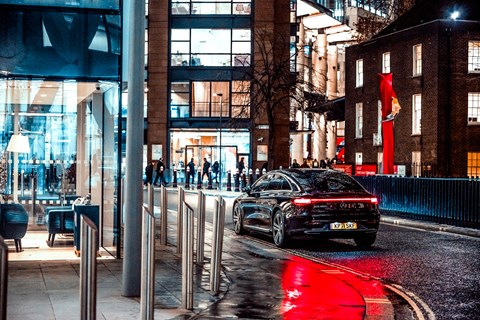 There is much else to like inside the cabin. The materials are superb, the craftsmanship mostly top-drawer. It's an incredibly smooth car to drive, flattering the driver and almost impossible to drive erratically. Performance is perfectly adequate – 0-62mph in 6.2 seconds won't see off a Tesla Model S (the iX does it in 4.6) but it's all a luxury car needs. On the motorway it's superb, matching a Phantom for quietness, refinement and relaxation. It's also wonderfully stable, assisted by its rear steering. But it's less fun to hustle down a B-road than most big luxury petrol saloons; sadly, like so many EVs, the EQS feels remote and uninvolving. At least it corners nice and flat with little bodyroll.
What does matter is the mushy brakes. Fellow road tester James Taylor likens their feel to treading on a cowpat. More impressive is the rear-wheel steering, which gives astonishing agility for a car so big. It's a particular boon for U-turns and for parking. The back seats are comfy enough but the rear of the S-Class feels more spacious and cossetting.
And all the interfaces and operating systems and apps? Both systems suffer from lag. A Tesla or a Kia EV6 (or any smartphone via Apple CarPlay) has a superior interface. The Tesla, EV6, e-Tron GT and Taycan can also charge faster.
The Mercedes has the better voice control. Just as well because the MBUX 2.0 system has a lot of menus to dig through. It is usually easier to gab than jab, and safer too. BMW's new OS8 system feels less slick then the Merc's. Perhaps it will get better with the over-the-air updates that – as with a Tesla and the EQS – will keep your car's electronics bang up to date. The redesigned (crystal glass) iDrive clickwheel looks nice but we found its response and operation less intuitive than its plastic forebear.
At first acquaintance, the iX feels the sportier drive. It's more responsive around town at lower speeds. It accelerates harder, has sharper, weightier steering and quicker 'throttle' response. Yet it's also harder to drive smoothly. Push hard on a winding road and the iX soon betrays its SUV-ness: it rolls more than the EQS, stumbles into understeer and, as with nearly all big SUVs, you suddenly feel like you're driving a bus. It's a 2.5-tonne SUV, after all. That absurd 50p-shaped steering wheel doesn't help.
It's an excellent motorway car: quiet and relaxing. The refinement of both these cars is truly outstanding. Nonetheless the BMW is noisier than the Merc, with a touch more road and wind noise. The ride, though good, is firmer.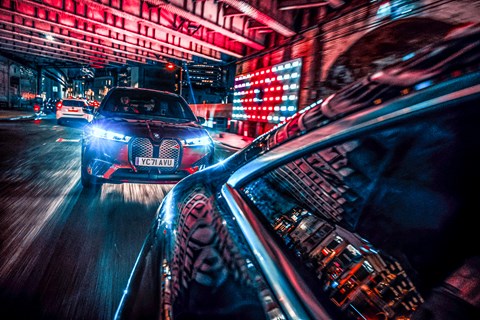 The BMW's cabin is classy and modern, sharply sculpted and more reductive than the Benz. Less showy, too. There are half as many physical switches as on a combustion-engined BMW. It's a spacious interior, roomier than an equivalent petrol SUV, although there's no seven-seat option (due to the higher boot floor, in turn due to the rear e-motor underneath). Less impressive is the centre console, capped in winsome wood but shaped like an ironing board. We all kept trying to fold it out of the way. Drinks in the cupholders underneath are also awkward to reach.
Germany's two top car makers have thrown everything at their new flagship EVs. Both cars are bold ripostes to any insinuation that they're behind those upstarts at Tesla. Late they may be, technical laggards they're not. It's the German motor industry in full peacock glory, preening and flaunting its wares.
The Mercedes is the more impressive achievement and more satisfying to drive. It's more futuristic, more the statement car. Its refinement, stability and ride comfort are all exemplary: only the Rolls-Royce Phantom, at three times the price, can match it. It's proof an EV can operate at the highest luxury-car plane.
Yet the EQS's cabin is too brash. As Coco Chanel pointed out, luxury is not the opposite of poverty, it's the opposite of vulgarity. The mood lighting that flows through the cabin – 11 different colours are offered – reminds me of a mobile lava lamp. I don't want fuss, clutter and light shows in my luxury car. Give me the calmness of an S-Class. The ultimate luxury car would do everything for you and have no touchscreen.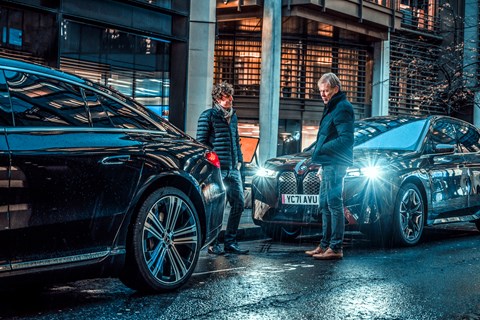 Our test also shows the increasing and unfortunate convergence of Mercedes and BMW. They are becoming less distinctive car makers, which the electric revolution exacerbates. EVs are sold on interfaces more than driver appeal, and the technical paths chosen by these two German titans are near-identical.
The upcoming BMW i7 luxury saloon, head-on rival to the EQS, will preview more bold new technology. A new iX concept car can change colour. Meanwhile, Benz's new Vision EQXX concept previews a range of more than 620 miles.
American car industry legend Bob Lutz – ex-GM, ex-Chrysler – notes Mercedes and BMW are terrified of Elon Musk and Tesla. We are witnessing their counter attack, all guns blazing. And it will muster more firepower yet.
First place:
Mercedes EQS
Second place:
BMW iX
Mercedes EQS vs BMW iX: specs
Mercedes-Benz EQS 450+
Price £113,995 (£121,990 as tested)
Powertrain 107.8 kWh battery, single e-motor, rear-wheel drive
Performance 328bhp, 419lb ft, 6.2sec 0-62mph, 130mph
Weight 2480kg
Efficiency 3.2-3.7 miles per kWh (official), 2.6 miles per kWh (tested), 453-mile range (official), 363-mile range (tested), 0g/km CO2
BMW iX xDrive50
Price £99,140 (£116,965 as tested)
Powertrain 105.2 kWh battery, twin e-motors, all-wheel drive
Performance 516bhp, 564lb ft, 4.6sec 0-62mph, 124mph
Weight 2585kg
Efficiency 2.9-3.0 miles per kWh (official), 2.1 miles per kWh (tested), 380-mile range (official), 266-mile range (tested), 0g/km CO2
link