A humorous beard-stroker pondering the marketing power of athlete facial hair. A think piece asking 'Is this sport?' that probed the sporting merits of fringe disciplines like spelling bees, competitive eating and fishing. Deep-dives into the business of sumo wrestling, dog sledding, and one of the toughest foot races on the planet.
14 years is a long time in media. Following its formation in the summer of 2008, SportsPro went on to publish no fewer than 117 issues of its flagship print magazine, a run that amounted to hundreds of stories and more than 15,000 pages. On reflection, the process of filling all those pages took SportsPro into some fascinating corners of the sports industry, and its writers into some weird and wonderful subject matter – as the features mentioned above will attest.
Looking back, SportsPro's eclectic back catalogue contains nostalgia and insight in equal measure; a rich resource replete with the most important sports business stories of their day but which, at times, delved into territory far beyond the mainstream. Indeed, alongside the weighty stuff – Olympic preparations, Fifa corruption scandals, Russia's state-sponsored doping – sat decidedly lighter fare, like the commercial value of James Harden's beard, how stadium urinals are made and, yes, whether or not the world's top hot-dog eaters should be bestowed the status of an athlete.
But that was always SportsPro's wont. Intended as both a high-end coffee table adornment for offices across the international sports industry and a carry-on accompaniment for business class travellers everywhere – a kind of 'Vanity Fair meets Private Eye' for sport – the magazine always strived to inform and inspire, to surprise and delight, anyone and everyone who subscribed to or simply stumbled across its perfectly bound pages.
Evolving the look, finding a voice
Having set out to profile the executives and organisations that make the sports business tick, SportsPro evolved in many ways over the years. Several design modifications saw the publication resized for Issue 41 and a sleeker masthead introduced as part of a company-wide brand refresh in early 2016. But that aesthetic evolution was perhaps secondary to the expansive and ever-evolving nature of the content itself.
Though conceived amidst the global financial crisis – hardly an ideal time to launch an exclusively print magazine – the timing of SportsPro's formation was, in some ways, auspicious. In hindsight, that period was a heady time for both the sports industry at large and London in particular.
An increasingly busy hive of activity, the British capital found itself at the centre of the sporting world in the run up to the 2012 Olympic and Paralympic Games, a huge cultural event that brought the great and good of the international business to the magazine's backyard. Meanwhile a lavish and highly controversial bidding race was underway for the Russia 2018 and Qatar 2022 Fifa World Cups and the Indian Premier League (IPL) had only recently launched, sparking conversations that continue to this day about sport's place within entertainment and media, the viability of franchise models, and the need to tailor the on-field product to ever-changing consumption habits.
Undoubtedly a mirror to the industry, SportsPro's covers – particularly the early ones – would soon reflect the white male-dominated world of sport, but let that not detract from the breadth and scope of its coverage. From soccer to motorsport, ultrarunning to boxing, ski jumping to equestrianism, SportsPro went on to cover just about every sport going. No league, series or event was ever considered too niche, no team or market too insignificant.
Thematically speaking, too, nothing was ever off limits. Like the in-house team of budding young writers, columnists came and went – industry veterans like Donald Dell and Patrick Nally making way for the esteemed newspaper journalist Martyn Ziegler, DEI expert Marisa Reich and Richard Gillis of 'Unofficial Partner' fame, among others – but the subjects covered were largely consistent. Sports sponsorship, broadcasting, major event hosting and governance were all staples, with the big-beast media rights and marketing agencies receiving their fair share of coverage.
SportsPro's look evolved with the times – a new masthead was introduced in early 2016, before the magazine shifted to a quarterly print cycle in 2019
Originally styled as 'sport's money magazine', SportsPro made it its mission to tell the story of the industry through its finances as well as its front-office deal-makers, guided by the conviction that what people really want to read about is people and money. As such, major deals and endorsement contracts were valued and dissected, mergers and acquisitions forensically analysed, investment trends – like the growing influence of private equity and sovereign wealth funds – tracked in line with the emergence of new money from new markets.
More recently, in recognition of how the wider industry has evolved since 2008, the growing businesses of women's sport and sports technology naturally came to the fore. The 'Netflix of sport' discussion, spurred by the rise of live streaming and direct-to-consumer subscription models, was impossible to ignore, while emerging areas like wearable tech, artificial intelligence and digital collectibles became increasingly relevant subject matter. Annual magazine features like '20 ideas to invest in now' were conceived in part because the industry's future was increasingly being shaped by sports tech startups and those who back them.
Indeed, thinking ahead became something of a guiding principle. In what proved to be a whirlwind period of rapid change and a golden era for bid strategists and venue master-planners, SportsPro never shied away from entertaining bold visions of sport's future – even if, in hindsight, it is clear some of those visions were more concrete than others.
Over the years SportsPro profiled many events that never were – such as Hambantota's failed quest for the 2018 Commonwealth Games and Istanbul's ill-fated bid for the 2020 Olympics – and several stadiums that never came to fruition, like Los Angeles' Farmers Field project and the Portsmouth Dockland Stadium. Then there were the lofty pledges of candidates for high offices who, despite talking a good game and laying out slickly-presented, aspirational manifestos, failed to land whatever post it was they were pursuing.
SportsPro embraced long-form storytelling from the outset, alongside a line-up of regular features for things like executive appointments and industry rumour 
Importantly, though, SportsPro never took itself too seriously. Regular features like 'Premature Facts', which sought to bring scurrilous humour to the business of industry speculation, and 'Jottings', a series of satirical musings written by a mysterious veteran known as The Scribbler, served as playful outlets for overlooked stories and chatter bubbling beneath the surface. 
The cover stars: where are they now?
Athlete icons, IOC presidents, heads of global governing bodies, major league commissioners, billionaire team owners: SportsPro covers naturally veered towards the most high-profile and powerful individuals in world sport.
Among the sporting greats to grace the lustre of the SportsPro front page were Tiger Woods (Issue 10), David Beckham (Issue 15), Usain Bolt (Issues 6 and 33), Floyd Mayweather (Issue 60), Andy Murray (Issue 62) and Naomi Osaka (Issue 106). LeBron James was the face of Issue 21 after topping SportsPro's inaugural list of the World's 50 Most Marketable Athletes in 2010 – an annual ranking that has morphed considerably but continues to this day.
Yet many lesser-known faces graced the cover, too. The likes of Jörg Daubitzer (Issue 40), Bruce Ratner (Issue 45), John Armitt (Issue 46) and Ken Chu (Issue 54) were hardly household names even at the height of their respective influence, but their appearance on the cover reflected the magazine's commitment to surfacing and spotlighting backroom operators whose contributions were less-heralded yet no less significant.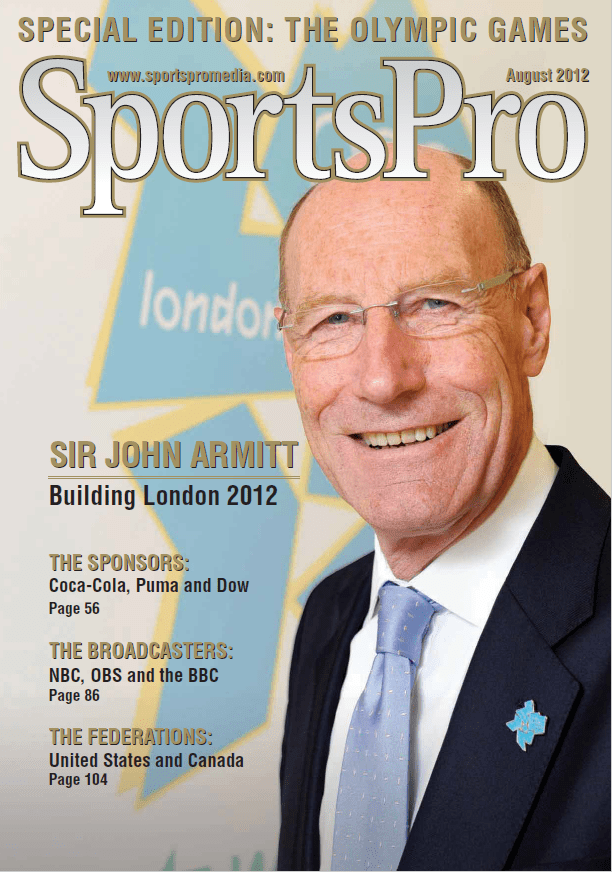 Each of those executives helped build venues and businesses that will define their personal legacies and those of the communities in which they reside. In the case of Armitt (left), one of the UK's most respected civil servants who previously chaired the country's Olympic Delivery Authority, it was the various stadia and infrastructure constructed for London 2012, a landmark event to which an entire edition of SportsPro was dedicated in what was the first of three summer Olympic special issues.
More often than not, of course, SportsPro's chosen cover star served as the face not only of the magazine, but of an organisational strategy that was the talk of the industry at the time.
Back in 2008, Issue 2 told the story of how Lalit Modi's 'astonishing gamble to revolutionise world cricket' had paid off thanks to the phenomenal early success of the IPL. Four years and 46 issues later came Marc Watson, the smooth operator then spearheading BT Sport's ambitious foray into a UK pay-TV market long dominated by Sky Sports.
Having sensationally swooped for a package of domestic rights to the Premier League, the suave Englishman exuded the confidence of a disruptor with pockets deep enough to challenge the might of the incumbent when he spoke to SportsPro in October 2012. Since then, Watson (right) has gone on to lead another challenger media brand, Eleven Sports, whose own entry into the UK market proved rather less successful. Meanwhile BT's future in sports broadcasting remains uncertain, as do its much-vaunted aspirations of toppling Sky.
Elsewhere, some cover stars and their stories are as relevant today as they were then. Aussie great Greg Norman (Issue 23), for instance, was talking up his 'vision of golf's future' when he graced SportsPro all the way back in the summer of 2010. Only now, 12 years on, is that vision becoming any clearer – although it is quite possible Norman's grand plan might never materialise as he hopes.
Similarly, serious questions were being asked of Chelsea owner Roman Abramovich (Issue 12) and the shadowy sources of his personal wealth well before the UK government imposed financial sanctions on the Russian oligarch earlier this year. As SportsPro declared back in June 2009: 'He's made his billions, now he must fight to keep them'.
Other cover stars have also endured bumpy rides since fronting SportsPro. Ex-ATP boss Chris Kermode, who SportsPro proclaimed 'The merchant of tennis' on the cover of Issue 71, was ousted from his post by a Novak Djokovic-led player revolt in 2019. Delia Bushell, the face of the October 2015 edition in her capacity as Watson's successor at BT Sport, was forced to relinquish her subsequent role at the Jockey Club in 2020 following allegations of bullying and racism. Then there is Carlos Nuzman (Issue 38), a man the magazine dubbed "a statesman" and an "Olympic visionary" back in November 2011.
The former Rio 2016 and Brazilian Olympic Committee president (left) now finds himself behind bars, having been sentenced to almost 31 years in prison last November for vote-buying and other corruption charges linked to the Games. As it transpired, Nuzman had been secretly stashing away his ill-gotten gains, including 16 gold bars in a Swiss bank, whilst eagerly lapping up the plaudits for landing South America's first Olympics.
One SportsPro cover star who did manage to clear his name following allegations of financial crimes was Michele Acquarone (Issue 43), the former Giro d'Italia director who was eventually found not guilty of fraud in 2019 after six years of investigations and court hearings. The Italian (right) had protested his innocence from the outset, and despite warnings from lawyers against speaking to the press he revealed his side of the story in a tell-all interview with SportsPro in early 2014.
Tales from SportsPro's past
I'm very proud of my stint at SportsPro. Getting something like that up and running, playing a part in that, and spending a good number of years pumping out a magazine every month is not the work of a moment. The discipline and process of putting together a magazine, the attention to detail required, have been absolutely worth their weight in gold for me. Matching that internal process every month with the external side of it and being able to go out and interview and make relationships with really interesting, influential people was fantastic.

David Cushnan, Editor (2008-2012); Editor-in-Chief (2012-2015)
One of the many things that has been important for me about my time at SportsPro was the opportunity that being on a mission for a magazine gives you to develop relationships, to develop important, valuable relationships, by offering a bit of value to someone who you don't know in the form of wanting to do a feature on them. The relationships that I made across the industry at SportsPro have continued to stand me in really good stead after my time there. I couldn't think of a better forming ground for whatever you want to do in the industry after that. All power to the mag.

James Emmett, Editor (2012-2015); Editorial Director (2015-2016)
Ironically, it is hard to put the value of the SportsPro magazine experience into words. Its progression is pretty well indivisible from my own professional development – as is true for many who came through the team there. So there are really two parts of the whole thing that I'll look back on with fondness. One is the way the magazine evolved to meet the needs of a changing industry, adapting to find new ways of telling stories that made the most of print formats; doing our best to be creative, credible and consistent. But I'll also remember the parts of it that I'd have enjoyed in any job. We had fun working hard, which is about all you can ask for. Putting a magazine together is an amazing collaborative process and if you get it right, you end up with something rich and tangible to pass on. A lot of pride, care and ingenuity went into went into every issue. The return of every printed copy was greeted with giddy terror and, often, no little satisfaction in the end. Then it was straight on to the next thing, which is where we're all headed now. Thanks for reading.

Eoin Connolly, Editor (2016-2018); Editor At Large (2018-2022)
Whether it be travelling to the docks of Antwerp to cover an obscure kickboxing promotion or jetting off to Miami to interview a major league commissioner, SportsPro magazine put me in countless situations I never thought I'd find myself. I still remember trying to hide my grin as a wide-eyed intern after being told I was going to the cute Croatian coastal town of Poreč to report on beach volleyball – a sport I knew very little about. On the first day I was politely turning down the offer of free cocktails; by the last I was asking for "yet another go" on the VIP speedboat around the bay. Suffice to say, Hannes Jagerhofer and his Swatch Beach Volleyball Major Series received a glowing write-up.

Sam Carp, Deputy Editor (2020-)
I have been on both sides of the SportsPro magazine experience. As a reader, the edition I recall most vividly is January 2019 – a trip inside Bruin Sports Capital. I must have read that article ten times in the year that followed as we worked on a sale of WPP's stake in my business Two Circles to George Pyne and his team. There were some gems in there – I still have it. Shortly afterwards in April 2020 I wrote my first article for the SportsPro mag – on being brave in a new world. It was written in the eye of the pandemic storm, and the positive reception from that created the impetus for two years' worth of content in the Playbook series. Whichever side of the fence I've been, the mag has been a staple of my working world. Times move on – but congrats on a great innings.

Matt Rogan, Contributor (2020-)
SportsPro was the first job I ever had in sport, and somewhere between covering the Under15 Modern Pentathlon Worlds in Lisbon to charting the fortunes of the Paris 2024 bid in Roland Garros, it landed me with friends, adventures and knowledge that I still carry today. Each edition I ever wrote for still sits proudly on my bookcase, and I'm excited to read and work with the team long in to the (now digital-only) future…

Tom Lloyd, Digital Editor (2015-2016)
I'd never been to Prague, and I'd never heard of floorball. But then, there I was, waltzing through the Czech Republic's very own O2 Arena, flashing an access-all-areas pass to write about a sport by which – at the end of the weekend – I found myself strangely enchanted. One particular moment has always stood out from the 2018 World Championships – my only brief flirtation with the game – when play stopped abruptly mid-half as Finland and Sweden did battle. "Pint-off," decreed the yelling voice over the tannoy. And so, a spectator from each country was summoned to race down their beer, broadcast on an enormous screen to a searingly tribal audience. I wasn't so much hooked as fascinated; the same was true a month later when I sat down to interview Hal Robson-Kanu – he of Welsh footballing fame – about the merits of cryptocurrency. For the opportunity to broaden my horizons in the name of sports business journalism, I'll always remain hugely grateful to the magazine. I feel privileged to have contributed: to the end, it has been industry-leading, brilliantly crafted, led by a tremendous editorial team. I look forward to seeing the website move from strength to strength.

Nick Friend, Staff Writer (2018-2019)
---
And finally, a word on the future…
While the magazine has been put to bed once and for all, this is by no means the end for SportsPro. On the contrary, the team behind it can now look ahead to a new chapter in the company's journey, energised by the prospect of many more years telling the stories that matter.
SportsPro's commitment to quality, balance and breadth of coverage will live on. All that's changing are the mediums and the platforms upon which those stories are told.
Whether it's an expanded daily news service, original features and expert analysis, in-depth special reports and weekly podcasts, or indeed a burgeoning event portfolio and all that entails, SportsPro's future will encompass an evolved and enhanced content offering. It'll continue to take readers, listeners and attendees deep into the most important topics and trends shaping sport, delivering regular insight on thematic content areas and critical industry issues.
Stay tuned for more on all that in due course.
link